Intel 80C186 Data Sheet
Intel 80C188 Data Sheet
Searching for microprocessors and peripherals for your 80C186/80C188 system?
Intel 80C186 and 80C188 are 16-bit microprocessors. The 80C18x versions are compatible with 8018x devices while providing enhanced performance and lower power operation.
They are implemented with a modular architecture providing best-fit options for various end applications. The devices integrate a number of peripheral functions including; a Bus-Interface-Unit, a DMA Unit, DRAM Refresh Control, Timers/Counters, and a Clock Generator.
The 80C186/80C188 are used in numerous embedded applications including; modems, telephone equipment and POS terminals. They are also used in real-time applications such as; factory automation, measurement control, test equipment and medical systems.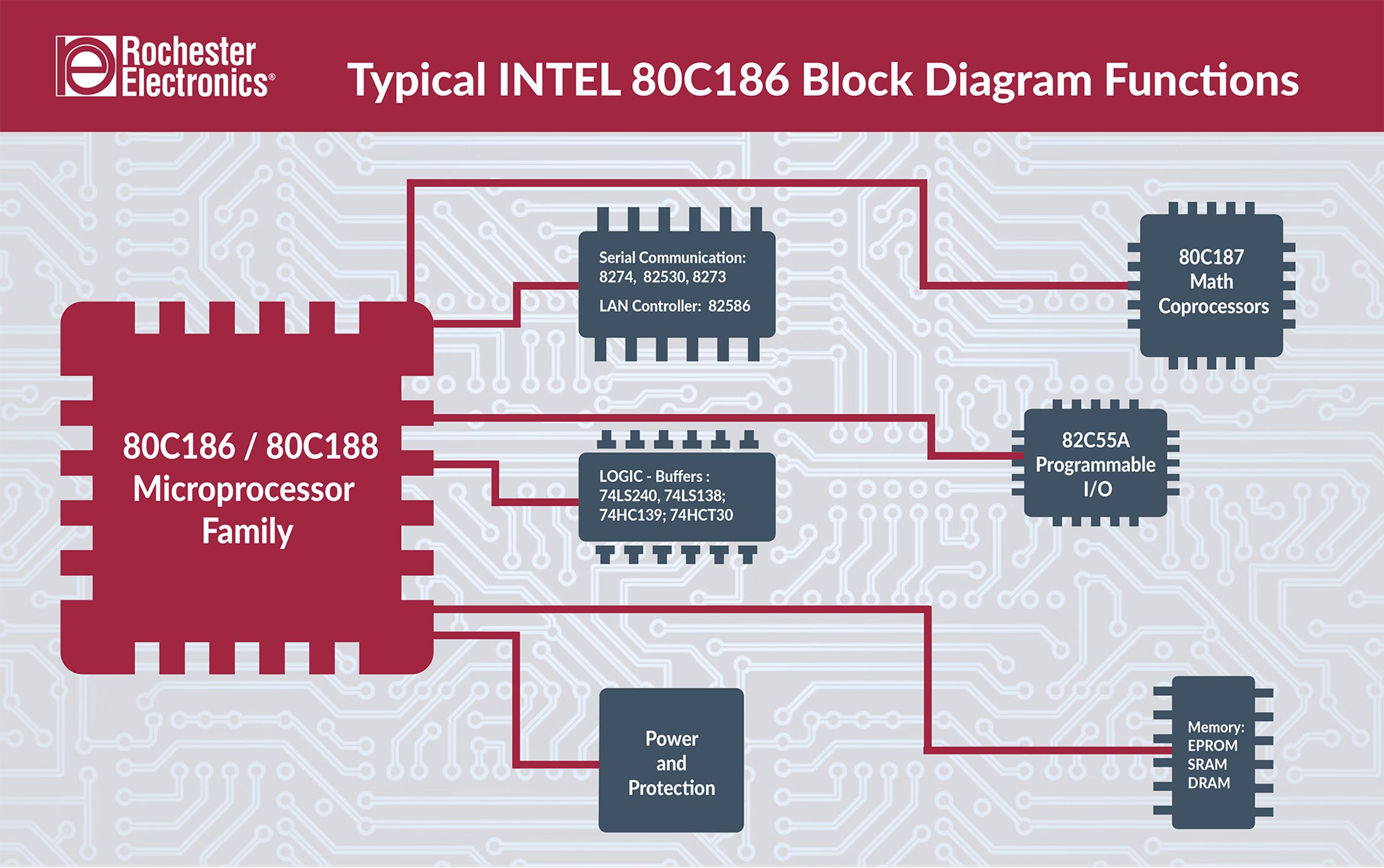 Rochester Electronics is an authorized distributor and licensed manufacturer of Intel, providing 100% Authorized, traceable, certified, and guaranteed Intel product solutions, supporting the industrial, transportation, military, energy, civil aviation and telecommunications markets for over 25 years.
To complete an 80C186/80C188 system, peripheral products are available such as:
Other products in your design would include:
Memory: EPROM, SRAM, DRAM
Power:

Voltage Regulators, Power Management/Supervisors

Discrete (MOSFETs, IGBTs, BJTs and Zener & Rectifier Diodes)

Isolators, Transient Voltage Suppression, Voltage & Current Sense

Logic Devices: to control, time and buffer interfaces to the Microprocessor