Digital Signal Processors, RF and Microwave, and Power Management
Since its inception in 1965, Analog Devices has become a global leader in high-performance Analog, Mixed Signal, and Digital Signal Processing. Their portfolio includes data converters, RF and microwave ICs, power management products, and processing products, which including high-performance DSPs, and mixed signal SOCs.
To remain competitive in the semiconductor industry, Analog Devices continues to strongly invest in new technologies and strategic acquisitions to broaden its portfolio. To this end, they have just completed their acquisition of Maxim Integrated strengthening their capabilities to provide high-performance analog solutions. This complements well with the previous 2017 acquisition of Linear Technology with its strength in power management products.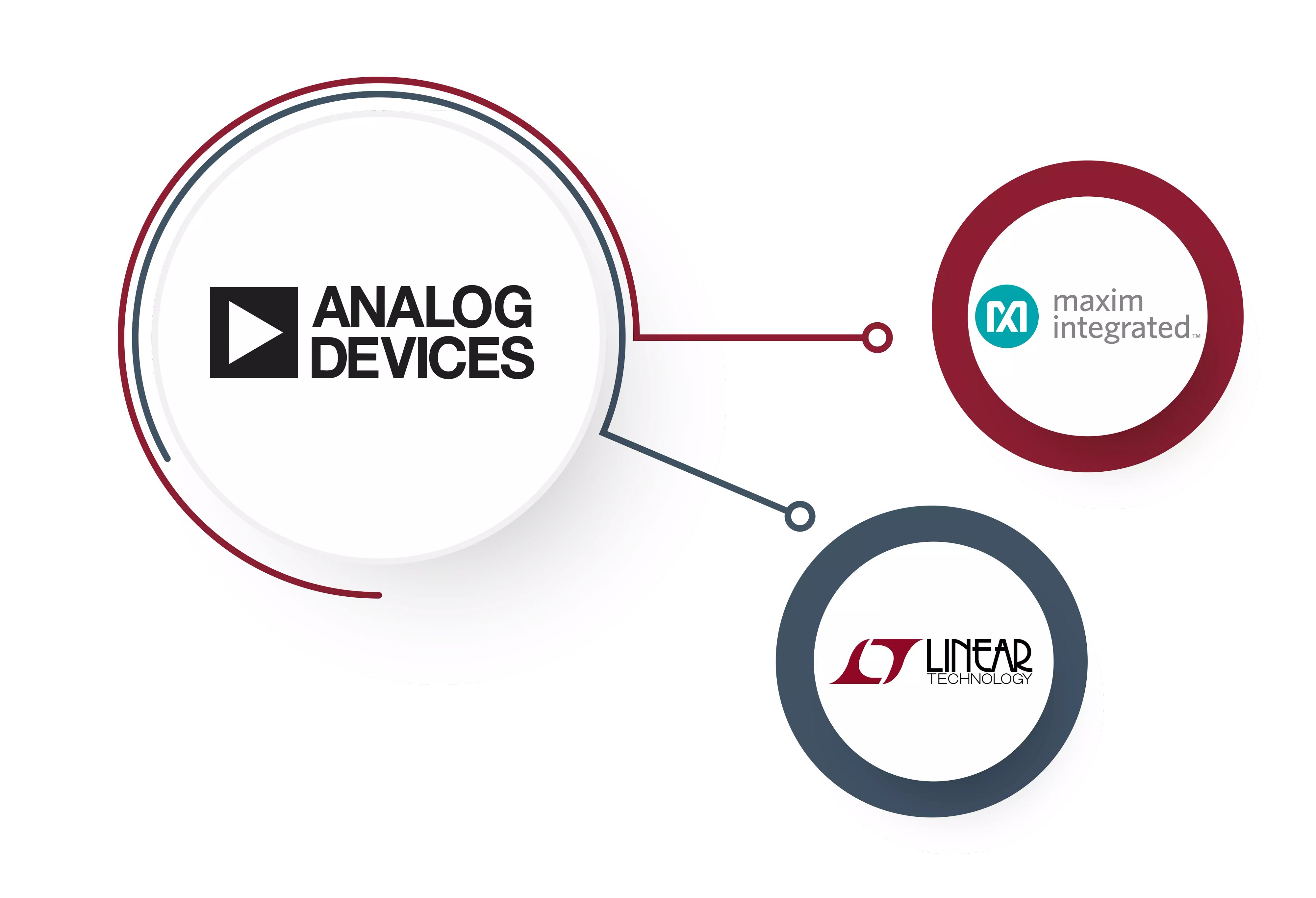 With a long and diverse product history, Analog Devices understands the importance of customer support and has partnered with Rochester Electronics for over 20 years. Our partnership helps to ensure customers a smooth and manageable transition through their product lifecycle.
Rochester stocks over 350 million units of 100% authorized and guaranteed Analog Devices' inventory comprising over 16,000-part numbers, including both active and end-of-life devices, as well as support for automotive and military temperature ratings.
Analog Devices is an industry leader in Digital Signal Processors (DSPs), with a long track record of product development. Their complexity and software requirements make DSPs a critical component in a product lifecycle analysis. Rochester is well-positioned to help with this challenge and DSPs are an important segment of our inventory, offering over 800,000 devices made up of 500 distinct part numbers. Included in this are 110-part numbers making up 225 thousand Blackfin DSPs. Additionally, through Rochester's Build-to-Order (BTO) program, we provide licensed manufacturing of the popular ADSP-21xx digital signal processor family and was selected to provide continued support of the ADSP-TS20xS TigerSHARC®.
In a similar product line, Rochester has inventory of 250 thousand ARM7 based SOCs which include many peripheral features based on Analog Device's mixed-signal analog expertise.
Other highlights in our Analog Devices offering are a broad range of power management products which includes devices from the Linear Technology acquisition. These cover a variety of power supervisors/monitors and battery management solutions as well as an array of voltage regulators, controllers, and references. Data Converters and Amplifiers are also well-represented with options from low-cost/low resolution through high performance/high resolutions devices. These include many standard Op-Amps, A/D, and D/A converters, as well as a selection of more specialized devices.
The RF/microwave and timing components are additional strong segments of our inventory. These include many VCOs, PLL's, frequency synthesizer, modulators, mixers, clock drivers and clock generators.
The portfolio continues with many added product types such as digital isolators, digital potentiometers, and interface devices and is regularly updated to provide continuous support options for legacy devices and beyond.
Search Analog Devices Inventory