Visit our booth and learn more about Rochester's Semiconductor Lifecycle Solutions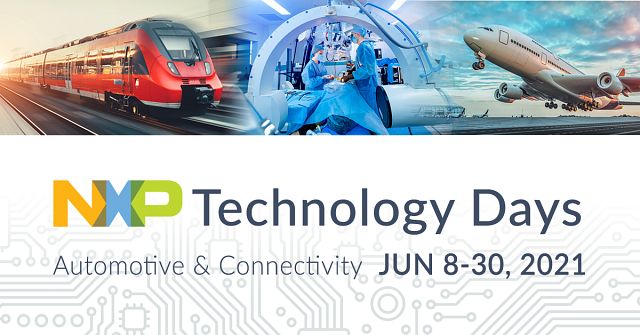 NXP Technology Days, June 8-30, 2021, is a free world-class online training program for engineers designing solutions with embedded technology. Rochester Electronics, a trusted and 100% authorized NXP partner, is one of the valued sponsors in the online technology showroom.
Join our Industry Experts to learn more about Rochester Electronics' Authorized Distribution, Licensed Manufacturing, and Manufacturing Services Solutions.
Register for this online event
Morning (EMEA) Sessions: "Rochester Electronics: Authorized Solutions for Overcoming Semiconductor EOL Supply Chain Disruption," with Ken Greenwood, Rochester Electronics Technical Sales Manager-EMEA
Learn how an authorized supplier provides a risk-free source of obsolescence and active product support, during times of supply chain disruption, and how a licensed semiconductor manufacturer can help you avoid costly redesigns, or premature product discontinuations, and extend product lifecycles.
June 8 and 10 – 11 a.m. CEST (UTC-02:00)
June 15, 16, 17 - 11 a.m. CEST (UTC-02:00)
June 22, 23, 24 - 11 a.m. CEST (UTC-02:00)
June 29, 30 - 11 a.m. CEST (UTC-02:00)
Ken Greenwood is the Technical Sales Manager EMEA for Rochester Electronics.
He has over 30 years of experience in the electronics industry working in strategic sourcing roles at Nortel Worldwide and Matra Comms France before moving into Sales and Field Applications Management roles in the Connectors and RF/Microwave markets.
In his current role, Ken provides a vital interface between Rochester's Supply partners and the market: tracking and highlighting lead-times and supply issues, and matching market needs with Rochester's instant stock, or our long-term manufacturing abilities.
Afternoon North American Sessions: "Rochester Electronics Manufacturing Services & Solutions: Providing single solutions through to full turnkey manufacturing," with Dan Deisz, Rochester Electronics Director of Design Technology
Rochester offers a full range of manufacturing services including Design, Wafer Processing, Assembly, Test, Reliability, and IP Archiving providing single solutions through to full turnkey manufacturing, enabling faster time-to-market. Join us to learn about our comprehensive market solutions.
June 8 and 10, 1 p.m. CDT (UTC-06:00)
June 15, 16, 17, 1 p.m. CDT (UTC-06:00)
June 22, 23, 24, 1 p.m. CDT (UTC-06:00)
June 29, 30,1 p.m. CDT (UTC-06:00)
With over 35 years of semiconductor design experience, Dan Deisz is the Director of Design Technology at Rochester Electronics, based out of its Rockville, Maryland, office. In this role, his group performs all authorized product replications and customer-specific design solutions. Dan is also an active member of the Anti-Counterfeiting Task Force (ACTF) for the SIA having trained more than 200 CBP/HSI agents.
We look forward to meeting you and learning how Rochester can support your business needs.
We keep your business moving.