Rochester And Artesyn Hawk ASIC Re-Creation
What is a Rochester ReDesign or ASIC Re-creation?
Rochester Electronics designers work with the customer's design engineering teams to create a form, fit, and function drop-in replacement for an FPGA or ASIC using LSI's proven gate-array tools and technologies for legacy products.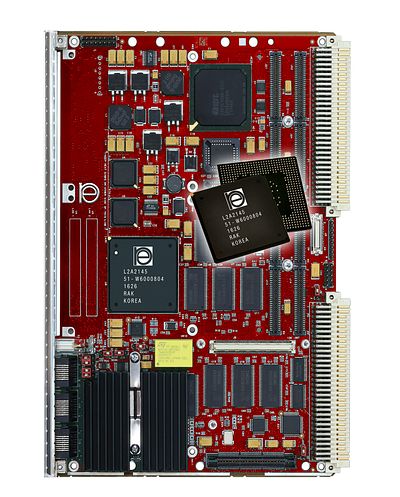 Rochester and Artesyn Hawk ASIC Re-creation
Rochester worked with Artesyn® to recreate the LSI Hawk ASIC which is critical to supporting Artesyn's VME products. At the inception of the program, it was agreed that this re-creation would be a great opportunity for both companies to demonstrate technical capabilities and to ensure mutual success with the project. The finished product is a .35um ASIC in a 596 bga package that includes an on-die PLL running at 400Mhz, PCI-66, about 1M transistors, and several hundred impedance controlled IO. This ASIC exemplifies what Rochester can do for it's customers, such as Artesyn, to bring a product back to life.
Voice of the customer
"As part of our commitment to long-term availability for VME products, our team recognized that we would need to support many of our key customers in highly sensitive markets far beyond the typical product lifecycle. The biggest roadblock to supporting those customers was the lack of availability of the end-of-life, commercial ASIC.
Artesyn® engaged with Rochester Electronics, LLC. to do a complete re-creation and manufacture of that custom ASIC.  Working together, Artesyn and Rochester successfully re-created the design, worked through the manufacturing process, completed final assembly, and after full testing and qualification delivered a successful ASIC re-creation.
Collaborating with Rochester was seamless during that process, with the company applying its expertise, experience, and professionalism to ensure success. Through our "VME Beyond 2020" initiative, Artesyn's VME customers can continue to source from one of the largest portfolios of Power Architecture VME single board computers in the industry and we would not hesitate to engage with Rochester again in the future should similar needs arise."
~ Scott Burns, Global Electronics Commodity Management Director Artesyn Embedded Technologies
Artesyn Embedded Technologies and Artesyn are trademarks and service marks of Artesyn Embedded Technologies, Inc.  All other names and logos referred to are trade names, trademarks, or registered trademarks of their respective owners.  All rights reserved.  For full legal terms and conditions, please visit www.artesyn.com/legal.
For Additional Information Contact Us