Intel® 80C196KC 16-bit microcontroller Product Replication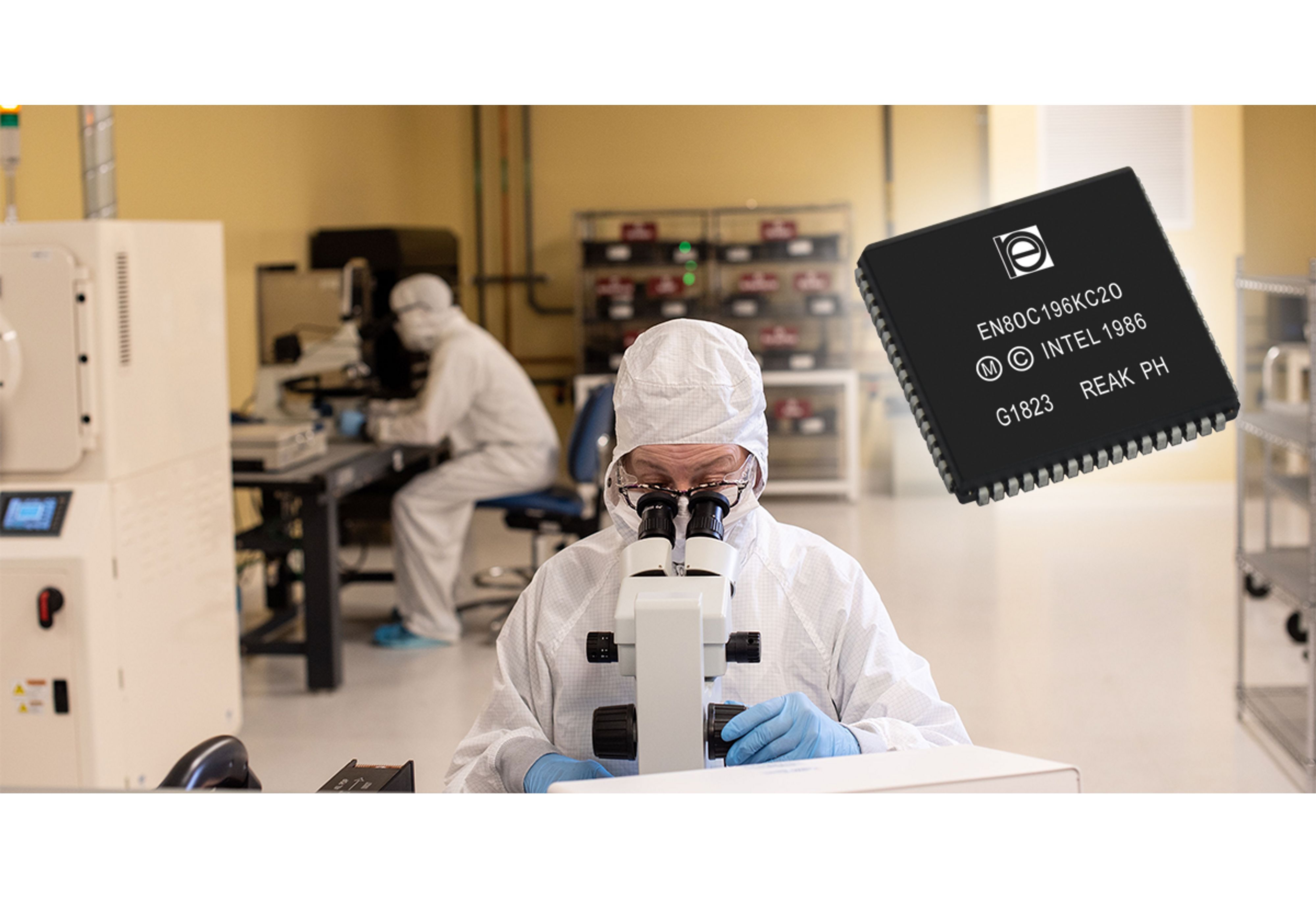 The Customer Challenge
A transportation original equipment manufacturer (OEM) found a critical device to support their manufacturing processes, the Intel 80C196KC MCU, had reached obsolescence.
With technology continuing to advance at a rapid pace, key system components often become obsolete. When an original component manufacturer (OCM) declares a critical semiconductor "end-of-life" (EOL) there is suddenly a finite source of supply of the original device. That supply is soon depleted, and original equipment manufacturers (OEMs) are faced with equipment redesign for the sake of a single obsolete component. It then becomes essential for OEMs to ensure a continuous source of component supply, and necessary to plan for obsolescence to extend equipment lifecycles.
As it was for our Customer, the Intel 80C196KC MCU was a vital component of their safety-related core systems. The device was no longer in production along with no authorized channel in the market that stocked authentic and reliable replacement parts.
The Intel 80C196 microcontroller (MCU) product family has been implemented by virtually all transportation manufacturers as well as in the industrial, medical, and aerospace markets. Many of these applications have extended development time and a long product lifecycle.
The 80C196KC MCU is a high-performance member of the MCS® 96 microcontroller family. It is an enhanced 80C196KB device with 488 bytes RAM, 16 and 20 MHz operations. It is implemented in Intel's CHMOS III process providing a high-performance processor along with low-power consumption.
The commercial (standard) temperature option is guaranteed over 0°C to +70°C. The extended (Express) temperature range option is guaranteed over -40°C to +85°C. Package options are a 68-Ld PLCC available in RoHS and non-RoHS versions and a 68Ld Ceramic PGA available in a non-RoHS version.
Purchasing from an unauthorized source posed an enormous risk. Potentially receiving faulty or counterfeit devices may have led to equipment failure or impact the safety of their critical application. When essential components, such as microcontrollers, require replacement it not only impacts the physical hardware but also influences the software and code developed for these devices. In many applications, where safety is the focus, software is also required to go through rigorous quality control certifications. This left the equipment manufacturer with the challenge of securing a long-term source for a high-quality, authorized replacement part that adhered to the original manufacturer's specifications.
The Rochester Solution
For over 25 years, Rochester has been providing 100% Authorized, traceable, certified, and guaranteed Intel product solutions. Given this long-standing partnership with Intel and that the 80C196KC 16-bit microcontroller is a star member of the product family, this customer looked to Rochester Electronics for inventory support following its' EOL announcement. With no remaining finished goods or related wafers/dies available, component replication was the most logical solution.
Rochester Electronics' Design Team provides design solutions for long-life applications, ensuring that system software does not need to change, while simultaneously creating drop-in hardware solutions that minimize new qualification expenses.
As a licensed manufacturer of Intel and with the source design, technology, and test databases, Rochester Electronics successfully replicated the 80C196KC beginning with wafers replicated according to the original IP.
Additionally, parts were tested using Intel's original factory test programs and the Rochester team developed test solutions to guarantee that the product met or exceeded the OCM datasheet.
This was a highly successful combined effort across Rochester's design, supplier, and test teams and dedicated partners at Intel. Bringing the Intel 80C196KC back to the market allowed this transportation OEM the ability to extend their equipment lifecycle well beyond component obsolescence with a drop-in replacement that didn't require software or hardware changes thus avoiding costly re-qualification, recertification, and redesign.
About Rochester Electronics
Rochester Electronics is the world's largest continuous source of semiconductors–100% Authorized by over 70 leading semiconductor manufacturers.
As an original manufacturer stocking distributor, Rochester has over 15 billion devices in stock encompassing more than 200,000-part numbers, providing the world's most extensive range of end-of-life (EOL) semiconductors and broadest range of active semiconductors.
As a licensed semiconductor manufacturer, Rochester has manufactured over 20,000 device types. With over 12 billion die in stock, Rochester has the capability to manufacture over 70,000 device types. Rochester offers a full range of manufacturing services including Design, Wafer Processing, Assembly, Test, Reliability, and IP Archiving providing single solutions through to full turnkey manufacturing, enabling faster time-to-market.
Rochester is The Semiconductor Lifecycle Solution™. No other company compares to the breadth of Rochester's product selection, value-added services, and manufacturing solutions.