ADSP-2101 DSP Product Replication - Legacy ADSP Brought Back to Life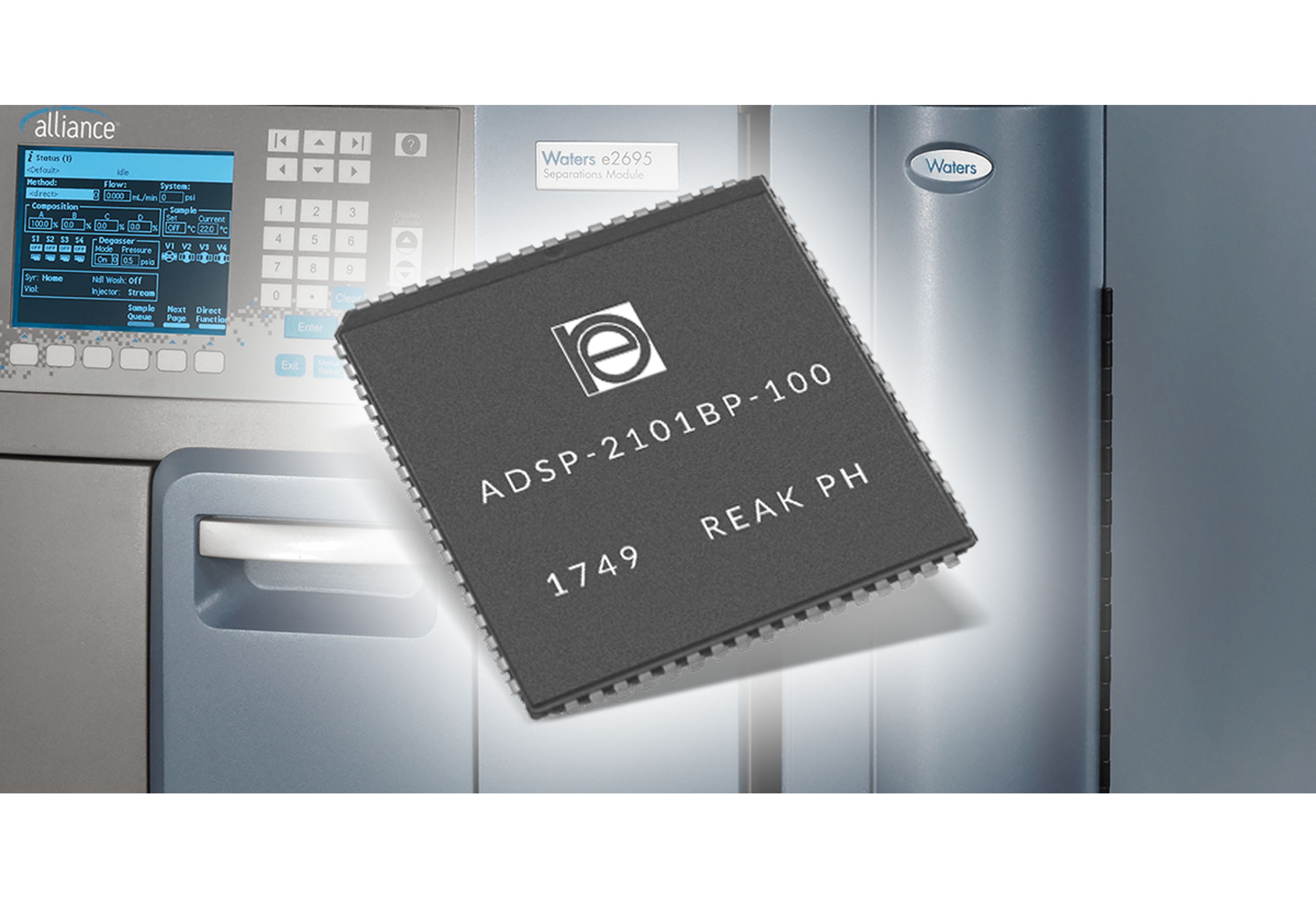 About Waters
Since 1958, Waters Corporation has been in the business of making innovative analytical instruments that assist scientists in reaching scientific goals, increasing productivity, and earning laboratory-based organizations a higher return on their investments in research, development, and quality control. Whether at work discovering new pharmaceuticals, inventing new and more effective ways to treat diseases, assuring the safety of the world's food and drinking water supplies, monitoring and controlling pollution, or conserving the world's greatest art treasures, scientists worldwide rely on Waters' liquid chromatography and mass spectrometry products. With 50+ years in business, Waters is now one of the largest companies in the analytical instruments industry, supporting scientists working in thousands of laboratories around the world.
The Rochester ADSP-2101 Replication
The ADSP-21xx family was a very popular legacy DSP used in applications with long-term embedded systems for industrial controls and avionics customers.
The ADSP-21xx support for Waters Corporation began by supplying end-of-life (EOL) finished goods. Then Rochester manufactured product utilizing Analog Devices die, which was acquired thru a strategic wafer buy. When that product supply was exhausted, Rochester transitioned Waters to a Rochester product replication model by utilizing licensed Analog Devices IP.
The strong partnership with Analog Devices enabled and authorized Rochester Electronics to replicate the ADSP-2101 product and bring it back into active status. The ADSP-2101 EOL notice was in 2014 so limited stock remained of the original wafer material. Analog Devices provided Rochester Electronics with the source design, technology, and test databases. Waters had on-going demand for many years to come. Rochester successfully replicated the ADSP-2101 in the PLCC package in February 2018, only 9 months after the IP was first received from Analog.
Rochester contracted with a former ADI DSP resource to consult on the test and analysis of this product to ensure a quick, efficient, and effective test characterization and comparison between original ADI silicon and Rochester's silicon.
This was a highly successful and combined effort of design, supplier, and test teams within Rochester to bring this device back to market in conjunction with a dedicated partner in Analog Devices.

Search our ADSP Inventory
Voice of the Customer
"At Waters, our products stay in the field for 30 years; obsolescence can be a big concern for us. Our best-selling product, Alliance, is 30 years old and this is where the ADSP-2101 was utilized. I see this collaboration between Analog Devices, Rochester Electronics and Waters as the gold standard of how a last time buy should be handled.
Waters was facing a last time buy of more than $2 million if Rochester could not replicate the device. Face-to-face meetings allowed Analog and Rochester to store and package two years' worth of die inventory, so that Waters could keep our production moving. Analog did a superb job providing support and their long-time relationship with Rochester was the key to this success. Our newly replicated device is ahead of schedule and our prototypes are working successfully.
In short, we went from a potentially painful and costly situation, to a smooth and seamless transition. We could not be happier with the results and we wish all obsolescence situations could be handled this way."
-Mark J. Looney, Senior Purchasing Manager, Waters Corporation
About Analog Devices
Analog Devices is a global leader in the design and manufacturing of analog, mixed signal, and DSP integrated circuits to help solve the toughest engineering challenges and create unmatched technologies and solutions to solve our customers' problems in instrumentation, automation, communications, healthcare, automotive and numerous other industries. Analog enables their customers to interpret the world around us by intelligently bridging the physical and digital with unmatched technologies that sense, measure and connect.
About Rochester Electronics
Rochester Electronics is the world's largest continuous source of semiconductors–100% Authorized by over 70 leading semiconductor manufacturers. As an original manufacturer stocking distributor, Rochester has over 15 billion devices in stock encompassing 200,000 part numbers, providing the world's most extensive range of end-of-life (EOL) semiconductors and broadest range of active semiconductors. As a licensed semiconductor manufacturer, Rochester has manufactured over 20,000 device types. With over 12 billion die in stock, Rochester has the capability to manufacture over 70,000 device types. Rochester offers a full range of manufacturing services including Design, Wafer Processing, Assembly, Test, Reliability, and IP Archiving providing single solutions through to full turnkey manufacturing, enabling faster time-to-market. Rochester is The Semiconductor Lifecycle Solution™ no other company compares to the breadth of Rochester's product selection, value-added services, and manufacturing solutions.